Cyber Monday gets you 30% off all upgrades hardware or software, or $300 off a brand new CyberSmart Computer!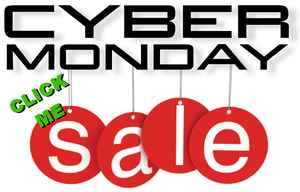 If you missed out on our Black Friday sale... DON"T WORRY! You can still save $300, OR MORE this Cyber Monday when you come into CyberSmart Computers. Upgrade your computer you'll get 30% off, or order a computer for yourself, your home, or your business, and get $300 off!
You can upgrade your existing computer with new hardware and or a copy of Windows for 30% off all hardware and software and still enjoy our 3-year warranty on all the new parts!
Or on a new buiild you'll still get our famous 3-year warranty, our lifetime Preventative Maintenance Agreement, and people you can talk to face-to-face whenever you have a problem or need a question answered.
CyberSmart Computers is rolling out the new AM1 Socket AMD CPU with the revolutionary system-on-a-chip technology. This technology integrates the CPU with the video card, and other chipsets that formally resided on the motherboard.

By placing all this computing power onto the computer chip itself, the time between computer commands is cut drastically. The CPU can run at half the speed of older designs and still deliver the same efficiency and lightening fast graphics to your monitor because everything is being done on the CPU itself, and there's no waiting for commands to come back and forth between the CPU and other elements of the motherboard.

These computers feature HD video, full surround-sound, an HDMI video port, a digital video port, and the traditional VGA port.

Of course, you'll also find it has a DVD burner, a 1 TB hard disk drive, and integrated network port for your Internet connections, plenty of USB ports - including USB 3.0 ports as well!

We can build this computer for you to use as a home theater connected to your television monitor, or you'll find it a perfect computer for all of your business needs, or personal computing.

Don't miss this opportunity to save 30% OFF UPGRADED HARDWARE OR SOFTWARE, or $300 on the CUSTOM BUILT NEW COMPUTER of your choice!